Tue, 29 April 2014
Episode 14: The Curse of Tut/The Pharaoh's in a Rut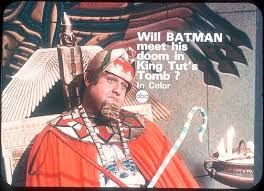 (RIGHT CLICK THE IMAGE TO SAVE THIS EPISODE TO YOUR COMPUTER)
William Omaha McElroy has once again reverted to his evil alter-ego, the malevolent monarch of crime, King Tut. He has created a giant Sphinx which emits his royal decrees to the citizens of Gotham from Gotham Central Park. One of those decrees is the death of Batman and Robin. But what is his ultimate goal in his latest caper? Can Batman figure it out before it's too late for him and Bruce Wayne.
Joining John to talk about King Tut and the actor who portrayed him Victor Buono, is Gotham City 14 Miles editor, Jim Beard.
Get your copy of Gotham City 14 Miles through our Amazon store. In doing so, you not only get a great collection of essays on the 60's Batman series, but you support The Batcave Podcast as well. Thank you.
Comment on the episode here or write thebatcavepodcast@gmail.com. Take a moment to rate the episode by using our star system at the bottom of this entry.
---
---
A native of Toledo, Ohio, Jim Beard was introduced to comic books at an early age by his father, who passed on to him a love for the medium and the pulp characters who preceded it. After decades of reading, collecting and dissecting comics, Jim became a published writer when he sold a story to DC Comics in 2002. Since that time he's written official Star Wars and Ghostbusters comic stories and contributed articles and essays to several volumes of comic book history.
His prose work includes GOTHAM CITY 14 MILES, a book of essays on the 1966 Batman TV series; SGT. JANUS, SPIRIT-BREAKER, a collection of pulp ghost stories featuring an Edwardian occult detective; MONSTER EARTH, a giant monster anthology; and CAPTAIN ACTION: RIDDLE OF THE GLOWING MEN, the first pulp prose novel based on the classic 1960s action figure.
Currently, Jim provides regular content for Marvel.com, the official Marvel Comics website, and is a regular columnist for Toledo Free Press.
Websites:
http://www.facebook.com/thebeardjimbeard
http://www.sgtjanus.blogspot.com
Comments[0]
---